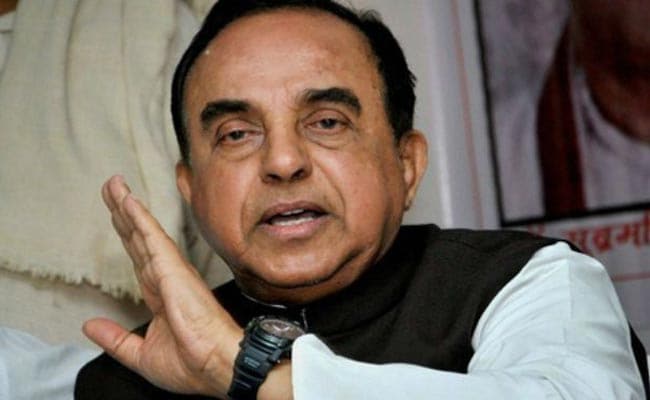 Bengaluru :  BJP leader Subramanian Swamy today described Tipu Sultan as a "servant of the French" and said the 18th century ruler of Mysore had no qualities for his memory to be celebrated.
"His (Tipu) supporters say he fought the British, well he fought the British not as an independent entity, he fought the British as what I would say as the servant of the French," Mr Swamy said.
He said,"Napolean had arrived in Africa. He was confident of winning the war there and he wanted to come to India, so there was an alliance made by the French and Tipu Sultan to fight the British together."
"Of course, Napolean lost the war and ended up also losing his position in France. But there is nothing to say that this man (Tipu) has any qualities for which we can celebrate his memory," Mr Swamy told reporters after a 'discussion' organised by "The Open Platform for Netaji."
Karnataka government has decided to celebrate Tipu Sultan's birth anniversary from this year with the main event held here on November 10.
The celebration amidst protest from few pro-Hindu outfits had led to death of two persons in Kodagu district following clashes, and a man was stabbed in Bantwal taluk near Mangaluru.
Stating that there is no academically or scholarly or intellectually acceptable biography of Tipu Sultan, Mr Swamy said the only authentic records "we have is the letters he wrote to his commander in chief, friends and so on."
He said "on the basis of whatever material that is available, there is no doubt that in various parts of India like Coorg, Kerala, Malabar in particular, of course in Trivandrum area where he got a beating- there he has engaged in a severe brutality with focus on Poojari's of the area."
He said rocketry for which Tipu is credited for by few historians was developed much before and was used by Kings earlier also.
Pointing out that for 216 years no government ever thought of celebrating Tipu or even remembering him, Mr Swamy said, "It is being deliberately done because Congress party is desperate that they may lose the next elections."
Mr Swamy said he will request for reopening of cases into the deaths of few national leaders including Mahatma Gandhi after the secret files related to Subhas Chandra Bose will be declassified by the central government beginning January 23.
"I will have to request for Shyama Prasad Mukherjee, Deendayal Upadhyaya case also…." he said.
On Subhas Chandra Bose case, Mr Swamy said "After January 23 basic thing will be clear that Subhas Chandra Bose did not die in the air crash, he reached Russia after that what happened everything will be out."
Source : NDTV