After the union home ministry handed over the Kanhaiya Lal murder case in Udaipur to the National Investigation Agency, the agency has filed a case against the culprits under several sections of the IPC and UAPA.
The Indian Penal Code sections invoked by the NIA are 452 (House-trespass after preparation for hurt, assault or wrong­ful restraint), 302 (murder), 153A (Promoting enmity between different groups on grounds of religion, race, place of birth, residence, language, etc), 153B (Imputations, assertions prejudicial to national-integration), 295A (Deliberate and malicious acts, intended to outrage reli­gious feelings of any class by insulting its religion or reli­gious beliefs), 34 (Acts done by several persons in furtherance of common intention).
Similarly, the sections of stringent Unlawful Activities (Prevention) Act, 1967 attached to the case by the NIA are sections 16 (terrorist act), 18 (conspiracy), 20 (member of terrorist gang or organisation). With the inclusion of these sections, the NIA has made it clear that they are considering the case as an act of terrorism.
NIA Registers a Case in the Incident of Brutal Murder of Shri Kanhaiya Lal Teli in Udaipur, Rajasthan pic.twitter.com/YtI48NHSJy

— NIA India (@NIA_India) June 29, 2022
The NIA says that the case has been filed against the accused who have conspired, planned and committed the heinous murder of Kanhaiya Lal Teli on 28th June in Udaipur in Rajasthan.
The agency also informed that the case was initially registered as FIR no 81/2022 at Dhanmandi police station in Udaipur by local police. Now, the NIA has re-registered the case RC-27/2022/NIA/DLI today. NIA states that the two accused, who have been arrested by the police, had inflicted multiple injuries to the victim with sharp weapons. They had also circulated a video of the criminal at in social media claiming responsibility for the murder in order to trigger panic and strike terror among the masses across the country, the agency said in a statement.
Earlier in the day, the union home ministry had informed that the case has been handed over to NIA. The ministry had said that the involvement of any organisation and international links in the murder case will be thoroughly investigated.
Source : OpIndia
---
Udaipur killing : Jihadis who beheaded Hindu man linked to Pak extremist organisation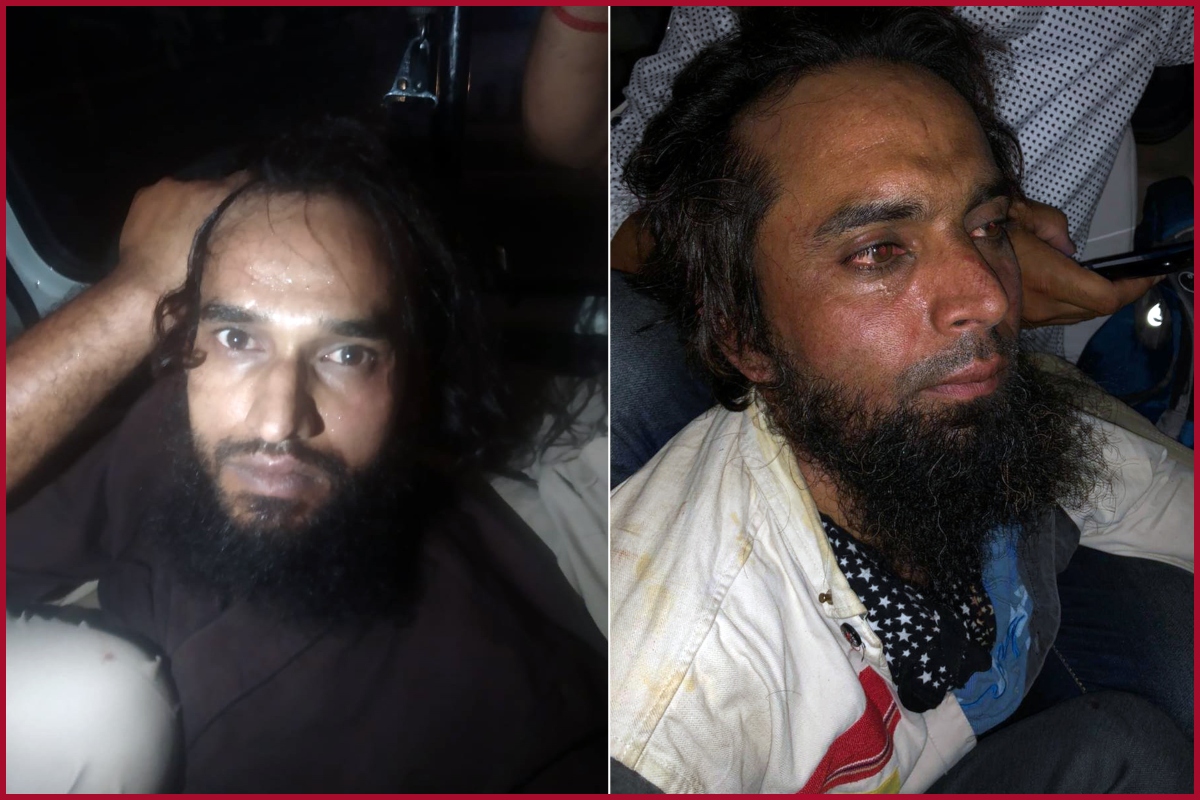 The accused — Gaus Mohammed and Riyaz Ahmed — were arrested on Tuesday night. They were caught from Rajsamand district's Bhim area, they said. Rajsamand is the neighbouring district of Udaipur.
The accused worked at a welding shop in Khanjipeer. While Riyaz, who hails from Bhilwara, lived in a rented accommodation in Khanjipeer Udaipur, Ghaus is from Bhima in Rajasmand. According to sources, both the accused are associated with a Muslim fundamentalist organisation based in Pakistan — Dawat-e-Islami.
Mohammad had joined Pakistan-based extremist religious group Dawat-e-Islami through Riyasat Hussain and Abdul Razak of Udaipur and had visited Karachi in Pakistan by the end of 2013, along with 30 others from India, sources said.
He was accompanied by two others from Udaipur — Wasim Akthari and Akthar Raza — and returned on February 1, 2014 after 45 days. Mohammad had also visited Saudi Arabia twice in 2013 and 2019 and Nepal in 2017-18, sources said. Mohammad revealed that Dawat -e-Islami is also connected with Pakistan's extremist political party Tehriq-e-Labbaik. He was also in constant touch with Salman Bhai and Abbu Ibrahim in Karachi, both of whom are associated with Dawat-e-Islami. Both the accused are currently lodged at the Charbhuja Police station lock-up in the Rajsamand district in Rajasthan.
On June 20, Akhtari and Mohammad had a meeting at Anjuman, Mukherjee chowk in Udaipur with Mujib Siddique (Anjuman Sadar), Julkan Sadar (Maulana), Ashwaq (lawyer) and Manud (lawyer), where the duo volunteered to kill the tailor. Riyaz surveyed his shop four-five times. Mohammad then contacted Salman Bhai and Abbu Ibrahim and told them he will do "something exemplary" and send a video to them, said sources.
An assistant sub-inspector (ASI) of Dhan Mandi police station in Udaipur was on Tuesday suspended for negligence as he allegedly did not pay heed to Kanhailal's complaints about the threat to his life.
The post-mortem report of 48-year-old Kanhaiya Lal, who was killed yesterday in a broad daylight in Rajasthan's Udaipur revealed that he had sustained 26 grievous cuts on his neck. After the postmortem examination, the body of Kanhaiya Lal was handed over to family members for last rites, which is underway at sector 14 in Udaipur amid tight security arrangements in the presence of hundreds of locals.
Source : India Today
---
Udaipur : Hindu man who supported Nupur Sharma, beheaded by Jihadis
A man has been beheaded and killed in Rajasthan for a social media post supportive of former Bharatiya Janata Party spokesperson Nupur Sharma in the ongoing controversy over the "blasphemy" of Islam's founder.
The killer reportedly uploaded a video with swords and knives in hand, confessing to the crime and appealing co-religionists to execute more murders like that. The man in the video is seen chanting the slogans of 'Labbaik Ya Rasool-Allah (Here I am at your service, O Messenger of Allah) and "Gustakh-E-Nabi ki ek saza, sar tan se juda' (there is only one punishment for blasphemy and that is beheading).
The worst has happened. An open display of sar tan se juda

A shopkeeper Kanhaiya Teli slaughtered in Udaipur by a man posting as customer. Killer uploaded video saying he has done his religious duty against"blasphemers". Kanhaiya had put up a status regarding Nupur Sharma row pic.twitter.com/DlnDdhmVqr

— Swati Goel Sharma (@swati_gs) June 28, 2022
Killer had announced his intention in advancepic.twitter.com/Hc1ybJ9k22

— Swati Goel Sharma (@swati_gs) June 28, 2022
Over the last three weeks, several street rallies by Muslims have been taken out across the country where participants called for the beheading of Sharma and other "blasphemers", calling it a punishment sanctioned by Islamic Sharia law for insulting of Prophet Mohammed.
An effigy of Sharma was hung from a pole in Karnataka. A cleric in Jammu, while calling Hindus with a religious slur – "cow-urine drinkers" – threatened to behead anyone supporting Sharma. Multiple Instagram users uploaded videos threatening to execute the beheading threats if Sharma was not given the death sentence by the state.
The case
As per several reports, the victim is named Kanhaiya Teli. He used to run a tailoring shop named Supreme Tailors in Udaipur's Dhan Mandi market.
On Tuesday, two men, wearing skull caps, entered his shop posing as customers. While Kanhaiya was taking their measurements, one of the men attacked him. The incident has been captured on video and gone viral on the Internet.
Other visuals of the case show Kanhaiya lying in the street outside his shop in a pool of blood. He died on the spot.
A video has emerged of two jihadis holding swords and knives, taking responsibility of the killing. One of the jihadi in the video resembles the killer in the earlier video at the shop. The police have not released the names of the killers yet.
ISIS style executions now in #Udaipur #Rajasthan. The @HMOIndia should wake up now and crush the ugly head of Jihadi terror now. Tomorrow will be too late !#rise_against_jihadi_attacks https://t.co/6QMWXqmS9p pic.twitter.com/4F5Elo2bOO

— HinduJagrutiOrg (@HinduJagrutiOrg) June 28, 2022
The victim had put up a social media post
A shopkeeper from the market, without wanting to be named, told that Kanhaiya had put up a Facebook page commenting on the ongoing controversy over "blasphemy" by Nupur Sharma. Local Muslims objected to his post, and gave a complaint against him to the local police.
The police filed an FIR against Kanhaiya but managed to sort out the differences between the two sides through talks. Kanhaiya returned home but began getting death threats through phone calls and messages.
"Kanhaiya was not given police security despite very blatant threats to him," the man said.
This correspondent could not get a statement from the police till the time of publishing this report.
Rajasthan chief minister Ashok Gehlot has reacted to the case, without identifying the victim or the killers. He appealed to people to not share the video of the gruesome incident.
This is not the first blasphemy-related murder in recent times.
In January, a man in Gujarat named Kishen Boliya was killed by two men named Mohammad Shabbir and Mohammad Imitiaz Pathan for a "blasphemous" social media post.
Like Kanhaiya, Kishen was booked by police for hurting religious sentiments before being killed in vigilante punishment by fanatics.
In October 2019, Uttar Pradesh resident Kamlesh Tiwari, also facing trial for allegedly insulting Mohammed (case filed under 295A besides other IPC sections), was killed by two men from Gujarat at his office.
In 2021, several rallies were taken out in various Indian cities by Muslim groups advocating beheading as mob punishment for a man named Yati Narsinghanand facing trial for allegedly insulting Mohammed. The rallies were taken out in Bareilly, Ajmer and Jammu besides other cities.
In 2010, a college professor in Kerala facing trial for insulting Mohammed (case filed under 295A besides other IPC sections) was brutally attacked by a group of Muslims. TJ Joseph survived the attack that left his wrist severed from his body. Though doctors managed to sew the wrist, he remains handicapped.
Joseph was later acquitted by the court. Last year, his autobiography detailing what he went through was released in English.
Source : Swarajya