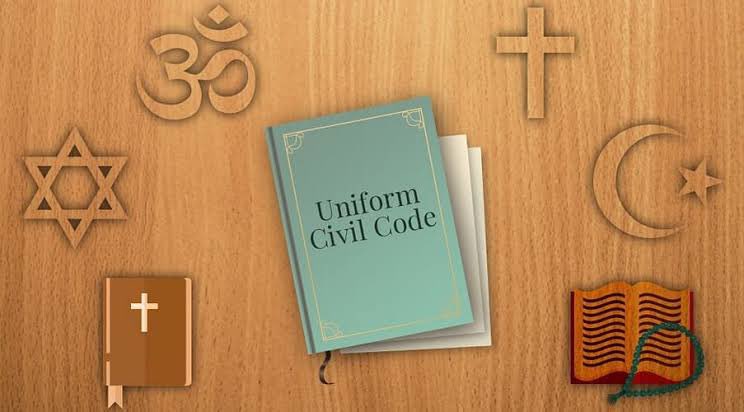 Today, if fanatics have 2, 3 or 4 daughters, they marry another in the desire of a son. It is a different matter that having a son or daughter depends more on the father than the mother. The real reason behind this is property and right of adoption. At present, if a Muslim couple adopts a child to protect the property, then under Muslim law, they cannot transfer the entire property in their name. Thus, adoption cases are rare. In return, men seek a son through another marriage. If Uniform Civil Code is implemented then polygamy will not be required and the right of adoption will be the same for all. Anyway, no woman wants her uncle to come into the house. In such a situation, the biggest benefit of the Uniform Civil Code is going to be for Muslim women and daughters. This is not just one advantage, there are many such advantages. Yet some people or fanatical organizations are against it.
Uttrakhand stir, protest in Deoband
At a time when a committee has been formed for the Common Civil Code or Uniform Civil Code in Uttarakhand, Jamiat Ulema-e-Hind, a prominent organization of fanatics, has raised its voice against it from Deoband. Jamiat has said that UCC will not be accepted at any cost. The main body of Muslims alleges that the Uniform Civil Code would interfere with Islamic law and order. In the midst of this proposal, Arshad Madani, president of Jamiat Ulema-e-Hind, says, 'Muslims are not non of this country… This is our country, religion is different but the country is one. In such a situation, the question is bound to arise would it be the right thing to have different laws according to religion in a country? A question can also arise in the mind of the people what is the objection of fanatical organizations or some people to the Uniform Civil Code? What will be snatched away, which they have started protesting without coming to the draft.
Know the benefits first
Before understanding the objection, it is important to know what has been said about it in the constitution and what is going to be beneficial from it. Senior advocate Ashwini Upadhyay explains that on 23 November 1948, the Common Civil Code i.e. Article 44 was passed by the Constituent Assembly. Article 44 states that the age of marriage should be the same for all, be it Hindu or Muslim, Parsi or Christian.
1. Ashwini Upadhyay says why does anyone see religion in this. If girls of every community get married at the age of 20-21, then they will study, and move ahead. What's the problem with this? But in today's environment, the age of marriage of a girl among Hindus is 18 years, and that of a boy is 21 years. The minimum age limit for the marriage of girls among Muslims is 9 years. Do they say that if a Hindu daughter is eligible for marriage in 18 years, then how will a Muslim daughter become eligible in 9 years? The people living in India are living in the same air, eating the same type of water and food, so why such a difference. With the implementation of UCC, this will not happen and everyone will have the same age of marriage.
2. With the implementation of UCC, the process of divorce will be uniform among the people of all communities. will be oral or written. Today, if the marriage is to be broken in the Hindu community, then you will have to go to court. The judge can give a cooling period of 6 months. But the Muslims are taking place orally. They don't even go to court. Triple talaq may have ended, but in many ways, divorces are still taking place. The ground for divorce will be the same for all at the UCC.
3. The rights under the Common Civil Code will be uniform. There is no discrimination between sons and daughters in the matter of property among Hindus. There is no discrimination between husband and wife. In the case of property in the Muslim community, the wife is not given equal status as the husband. In UCC, equal rights will be available on the property. Similarly, the right to adoption will also be the same. At present, there is no provision among Muslims to give the entire property to the child on adoption. In such a situation, many marriages are done for the property. Advocate Upadhyay says that the benefit of the Uniform Civil Code will not be given to Hindus, but Muslim daughters and sisters will get equal rights because they have not got equal rights yet. Even the Parsi and Christian communities will benefit from UCC.
Already implemented in Goa
Very few people would know that there is a part of the country where the Uniform Civil Code is already in force. Yes, in Goa. There Hindus, Muslims, Sikhs, and Christians are living there under this law. In 125 countries of the world, the age of marriage is the same for boys and girls, that is, the rule is one apart from religion. Some countries have 20 or 21. The 18-21 formula in India is only for Hindus. To what extent is it permissible for Muslims to keep the age of 9 years? Today it cannot be lived like a thousand years ago. 1400 years ago there was no electricity, car, can we live as before?
The main problem is that people do not have the right information about the Uniform Civil Code or are being misled by giving the wrong information. People are feeling that marriage will not happen with Uniform Civil Code, worship or namaz will stop, and restrictions will be imposed whereas there is nothing like this. This law has nothing to do with religion. Malnutrition in our country, especially among women, is mainly due to premature marriages.
Equal + Vidhan = Constitution, that is, such legislation which is equally applicable to all, it is called Constitution, but due to lack of Uniform Civil Code, is the Constitution being followed in the real sense? No.
The reason for opposition against UCC
Fanatics feel that the Uniform Civil Code is interference in their religious affairs. Whereas it talks about equal rights for women and men. It has nothing to do with religion.
The existence of the Muslim Personal Law Board and other religious organizations would be in danger so they do not want them to become irrelevant.
Fanatical organizations argue against the uniform rule that everyone has the right to practice their religion in the constitution and therefore they will oppose it. But it is to be understood that 125 countries of the world have a uniform civil law.
It is believed in Islam that their laws are not made by anyone, they are following the orders of Allah. But some things are knocking people like 9 years marriage age, is it ok in today's time?
They argue that women are given due protection in the Shariat. If so why don't they have equal rights with men? An expert says that much of the situation is still unclear. Many people from the majority and minority communities are unaware of this. People are panicking without knowing it.
Opponents say that Hindu laws will be made applicable to all religions from the UCC. While it has nothing to do with anyone's religion. It speaks of a similarity.
Those who talk of religious freedom under Article 25 say that it will be a violation of rights.
Some organizations mislead people by saying that it will be imposed on everyone.
Some political people try to dilute the matter by saying that now there is not much left in it which needs to be made a new law. These are the same people who were saying after the abrogation of 370 that there was nothing left in it.
In such a situation, if the government moves towards Uniform Civil Code, then it will have to first win the trust of everyone and first of all, put forward a draft which can be discussed from home to Parliament.
Source : Kreately