Com. Buddhadeb Bhattacharya who was nominated for the Padma Bhushan award has declined to accept it. The CPI(M) policy has been consistent in declining such awards from the State. Our work is for the people not for awards. Com EMS who was earlier offered an award had declined it. pic.twitter.com/fTmkkzeABl

— CPI (M) (@cpimspeak) January 25, 2022
Buddhadeb Bhattacharjee, who happens to be the former Chief Minister of West Bengal, had been named for India's third-highest civilian honour – the Padma Bhushan by the Government of India.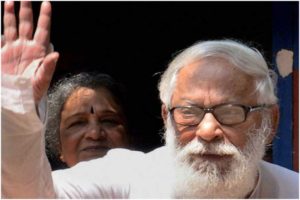 "I don't know anything about a Padma Bhushan award. No one told me anything about it. If indeed they have given me a Padma Bhushan award, I am rejecting it," he said in a brief statement in Bengali posted on his party CPM's Bengal social media pages.
As per the CPI(M) sources, it was a decision of both Bhattacharjee and also the party. It is said that the party had to have conveyed to Bhattacharya's family that the party's tradition is not to accept such honours given by Indian Government. In the 1990s, late CPM veteran and the first Chief Minister of Kerala E M S Namboodiripad had also turned down the then P V Narasimha Rao's offer to award him Padma Vibhushan.
In New Delhi, former CPM General Secretary Prakash Karat told The Indian Express: "We don't know how they could announce an award like this without his consent. And if they did that without his consent, it is a very bad thing. As far as we are concerned, our party does not accept any national award like this. That has been our standard policy. We don't accept any state awards."
According to the central government, the Union Home Secretary had spoken with Mr Bhattacharjee's wife about the award this morning. She had accepted the award and said thanks, Home Ministry officials said, explaining the fiasco.
One may wonder, what's common between Salim Khan, Romila Thapar, Khushwant Singh and Mr Bhattacharjee? Yes, apart from being lifelong Marxists, they too had turned down one of India's top civilian honours in 2015, 2005, 1984 and 2022 respectively. P N Haksar (in 1973) and Swami Ranganathananda (in 2000) too, had refused to accept the award.
Congress leader Ghulam Nabi Azad, part of a dissident group in the party that has questioned its leadership, too has been named for the India's third-highest civilian honour – the Padma Bhushan. Azad, former Leader of the Opposition in Rajya Sabha, thanked the government for recognizing his sacrifices. Congress leader Jairam Ramesh, who has stood by the Gandhi family amid the discord fired a salvo at Mr. Azad and called him a "Ghulam (Slave)" but praised praised Mr Bhattacharjee, tweeting, "Right thing to do. He wants to be Azad (Independent) not Ghulam (Slave)." Meanwhile, another congressman Shashi Tharoor welcomed it. "Warm congratulations to (Ghulam Nabi Azad) on his Padma Bhushan. It is good to be recognized for one's public service even by a government of the other side," he tweeted.
For Azad, the award was a vindication of his record in public office. Speaking to The Indian Express, he said: "I can only thank the present government that in spite of being a hardcore Congressman, they have recognized my sacrifices and work for over four and a half decades, particularly my fight against militancy in the mid-1980s when I resigned from the Union Ministry as Minister of State for Home and preferred to work to bring back normalcy in Punjab."

"I took over as AICC general secretary in charge of Punjab when militancy was at its peak. I undertook a four-year-long mass contact programme, during which many of my colleagues, at least 50 of them including MLAs, ex-MLAs and office bearers, accompanying me were killed in attacks. I escaped from the jaws of death on a dozen occasions," he said.
In the past years too, the BJP government had conferred Padma Vibhushan on NCP chief Sharad Pawar in 2017 and awarded Bharat Ratna, the highest civilian honour to former President Pranab Mukherjee, a lifelong Congressman, in 2019.
Earlier, the Ministry of Home Affairs (MHA) on January 25 had shared a list with the names of personalities who would be conferred with the Padma Awards this year. As many as 128 personalities from different fields will be honoured with the Padma Awards. The list comprised four Padma Vibhushan, 17 Padma Bhushan and 107 Padma Shri Awards. Out of 128 awardees, 34 are women and the list also includes 10 persons from the category of Foreigners/NRI/PIO/OCI and 13 Posthumous awardees. Former Uttar Pradesh chief minister late Kalyan Singh and India's first Chief of Defence Staff General Bipin Rawat too have been selected on Tuesday for this year's Padma awards. Singh and General Rawat who died in a helicopter crash in Tamil Nadu last month were conferred Padama Vibushan, the country's second-highest civilian award, along with 88-year-old Indian classical vocalist Prabha Atre and the late Radheshyam Khemka, former chairman of Geeta Press, which publishes Hindu religious books.
Cyrus Poonawalla of the Serum Institute of India, which manufactured COVID-19 vaccine Covishield, and Krishna Ella and Suchitra Ella of Bharat Biotech, which produced India's indigenous coronavirus vaccine Covaxin, were also given Padma Bhushan. Microsoft CEO Satya Nadella, Google CEO Sundar Pichai, chairperson of Tata Group Natarajan Chandrasekaran were conferred Padma Bhushan, the third-highest civilian award.
It is a regular practice for the Government to inform the awardees in advance. "In accordance with the normal practice, willingness of the person proposed to be conferred Padma Awards is informally ascertained (to the extent possible) before the announcement of the Award," the Government had told Rajya Sabha in 2015 answering to a question.
Communism does not believe in State based upon cultural, religious and geographical unity. They believe in State that has ideological unity. The ideology of Communism. For them Communism is paramount, everything else comes later. Their ideologies are either borrowed from Communists countries like Russia or China.
Chinese communists are successful because of its purging of burgiose elements or landed gentries. Indian communists copied them without studying the Indian social conditions. The manufacturing defect doesn't lies with indian communists only, this anti nationalism is one of the basic bulwarks of communism. They believe that everything in the world can be condensed to monetary basis. It's the difference between the haves and the have nots which is behind practically everything and every intention. The haves (capitalists) have created outgrowths for perpetual of this system. Those outgrowths include :-state, religion(opium of masses) , democracy, mnc, judiciary, bureaucracy, civil society, trade unions, farm unions, middle class, and many more.
Communism is one of the very few ideologies that advocates armed revolution as the only path to attainment of a communist society, dominated by proletariat (workers). Advocating dictatorship of workers and concomitantly criticising worker unions are one of the few contradictions.And the support the ideology has among the so called elites, despite explicitly calling for violence baffles me. The utopian vision of equality held by communists appear very pleasing. But juxtaposition of this aim with other communist commitments leave only one way for this equality :-dragging down every one to the lowest common denomination.
Karl marx viewed the 1857 revolt of india as a bourgeois uprising, he felt British are required for "civilising "primitive Indians. Various Indian communist circles openly sided with the Chinese during the 1962 war. They had their slogan :-"china's chairman is our chairman ", during the Naxalbari uprising years of 1970's.
In communism , the ideology supersedes Man , God , country . It is more important for them to stick to their ideology rather than the benefit of the nation . If you go through the texts of communism , they are indeed inspiring and gives a sense of intellectual superiority to the reader/follower. Combine that with the faculty that is predominantly leftist and what you get are deluded and misguided students hammering quotes by Karl Marx and Lenin . From their perspective, they are not anti national but are leading a rebellion against an evil oppressive regime . Communists do make great rebels but poor rulers.
And what is the way out when you are drowning? You move your hands and legs in any direction possible. Even these idiosyncrasies just appears to the public as mere theatrics.
Source : Kreately